Children and their learning at the heart of all we do.
Principal's Message: 12 September 2023
Dear Parents and Caregivers,
We have had another busy exciting fortnight at Cockle Bay School with the Glitter and Gold disco, Wacky Wednesday and lots of sporting success!
Our netball teams competed in the HPPA competition on Thursday 31 August with the CBS Blue team placing 3rd overall and CBS Green team placing 2nd overall. We had 3 Mathex teams compete at Bucklands Beach Intermediate with our A team placing 2nd overall primary school. Our soccer team competed in a 2 day tournament at William Green Domain and placed 5th overall out of 24 teams. We also had a friendly lunchtime netball game against Owairoa this week too. We are so proud of our teams for the practice they put in prior to the event and the sportsmanship and effort they showed on the day.
This week is Māori Language Week, an annual event across New Zealand that exists to celebrate the culture and language of the Māori people. At Cockle Bay School we are celebrating 'Kia Kaha' making the language stronger by having a waiata of the day, phrase of the day and some fun class challenges. Our Senior leaders are reading Māori legends and we have exciting lunchtime activities for students to join in with – poi making, learning how to use a poi, weaving and whai (sting games), rākau stick and an art challenge. We hope to post photos and videos of our celebrations on our Cockle Bay School Facebook page.
We are a Positive Behaviour for Learning (PB4L) school which means we teach behaviour through our school values – caring, collaboration, continuous improvement and celebration.
Our focus last week was reminding students to seek the support of our peer mediators in the playground and to use the Wheel of Choice to help us solve minor playground problems and make good choices. We are a big school, with lots of beautiful play spaces. While we encourage students to use our peer mediators and wheel of choice first, we have a strong presence of duty teachers in the playground at morning tea and lunchtime. Duty teachers actively walk around specific areas and monitor student behaviour. They wear a high-vis jacket so that they can easily be spotted. Our focus this week is to keep cloak bays and stairwells clear and tidy.
Just a reminder that in Term 4 we have two Teacher Only Days booked (20th October and 13 November). On these days our staff will be working with a facilitator on the new curriculum refresh in literacy & communication, and mathematics.
A reminder that our Out of Zone applications for 2024 close on 11 October.
Our staff and students have been working very hard to put the final touches on our production 'Madagascar Junior'. We have sold out each of the four performances and I know that it will be an amazing opportunity for our students to perform in an auditorium with lights, costumes and an enthusiastic audience.
It will be a busy end of term and on behalf of the Senior Leadership team I would like to thank our staff for their hard work and support. It is because we have such dedicated, hard-working staff that we can offer the students of Cockle Bay School so many incredible extracurricular, academic and cultural opportunities.
Kimberley and I have thoroughly enjoyed the opportunity to take on the Acting Principal role this term and look forward to welcoming Dorothy Bigwood back at the start of Term 4.
We wish you a safe and restful September school holiday.
Best regards,
Phebe Rossiter (Acting Principal)
A message from our CBS Board
Hi, my name is Alistair van Schalkwyk. I am a solicitor of a local law firm and have two children at Cockle Bay School. I hold the property portfolio at the school. This means I, with assistance from the senior leadership team and the board, plan, budget, scope out and implement a range of property-related projects at the school. I also liaise with the MOE for projects funded by them, for example, the refreshment of the toilet blocks currently underway being carried out in two phases. It is a busy portfolio, but it is rewarding to see the improvements that we have been able to undertake at the school over the last 4 years and look forward to continually working to improve the learning environment for all our children.
A message from the Class Councillors
Our School councillors have had many responsibilities that have encompassed a wide array of tasks, including engaging in meaningful discussions with their younger students in the buddy class program and crafting effective advertising for numerous fundraising endeavours, benefiting both our school and the local community. Furthermore, they have embarked on diverse projects, such as the"Jammies for June" campaign, providing support to the local Salvation Army, and raising funds for essential school needs.
Uniform Shop
The next opening of the uniform shop will be Monday 9th October – 8:30 am-9:15 am and 2:30 pm-3:15 pm.
Health and Safety
We continue to have a number of students unwell with coughs, colds and other viruses. Please keep your child home if they have cold or flu symptoms and remember that if your child has vomited, public health guidelines require you to keep them home for at least 48 hours.
Dates for your Diary:
Term 3
18-21 September – Production 'Madagascar'
Term 4
10 October: Positive puberty parent meeting
11 October: Out of Zone enrolments close
16-19 October: Art expo
20 October: Teacher Only Day
2 November: Athletics Day Year 3-6
13 November: Teacher Only Day
30 November: 1 December – Year 4 camp
18 December: Report to go home
20 December: Last day of school
Quick links to our school website:
Term Dates (At the bottom of home page)
We are pleased to finally go 'live' with our refreshed and renewed school website. The URL has not changed, so you will still find all the information on www.https://www.cocklebay.school.nz/ You will notice, however, the refreshed look of the website and the ease of being able to locate what you need. We welcome feedback and hope to hear that this is a great connection/communication tool for new families to the school.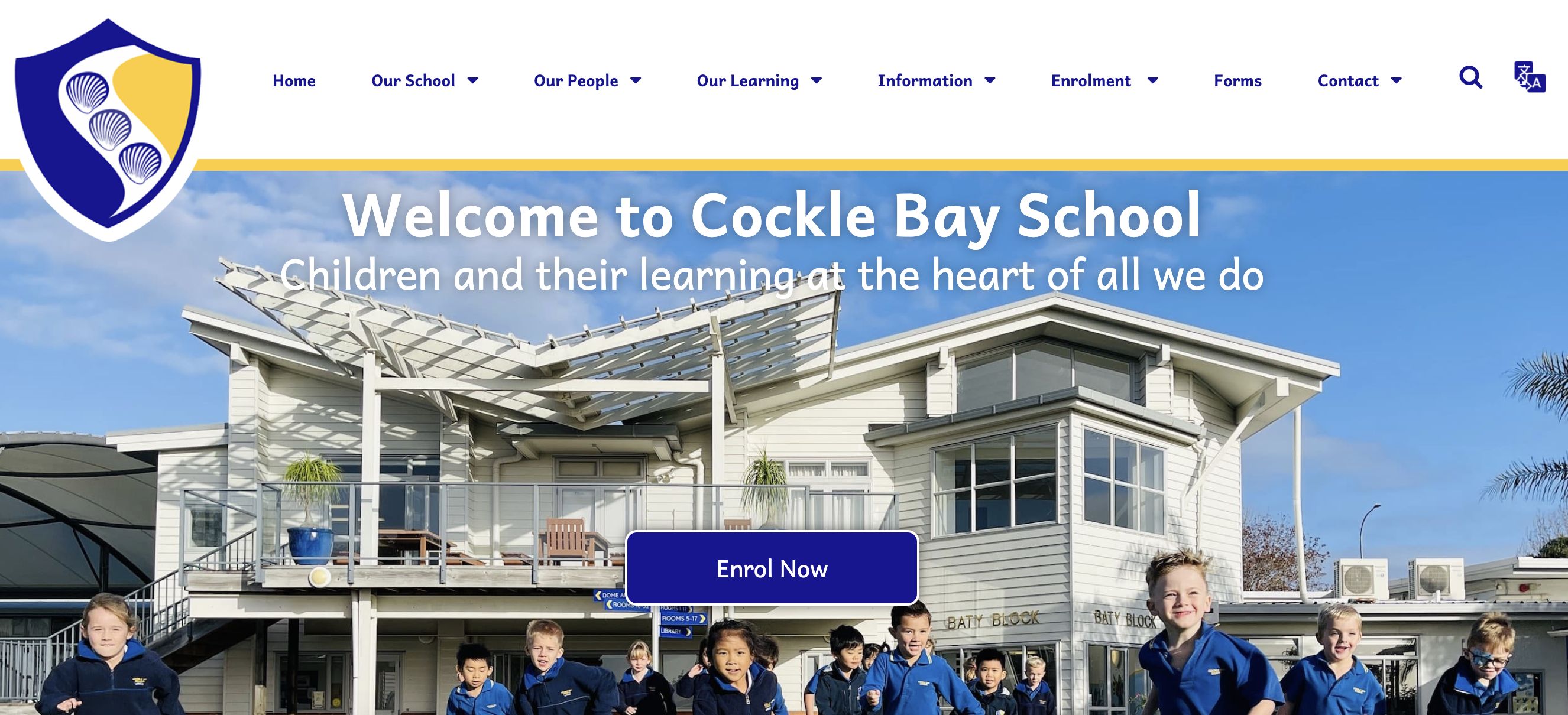 The new app replaces Audiri (formerly SkoolBag) as our main means of communication. Forms that were previously on Audiri can be located on the website, which is linked directly through the app. You can still register an absence and locate all up to date information, as well as current/previous newsletters. The new app is located in your phone's app store and is called KiwiSchools Connect – use the QR code to the left to download this.
Once you have downloaded the app, search for Cockle Bay School and then save this as your school of choice. You will then be able to keep up to date with regular communication and notifications. Please ask at the office if you have any problems accessing the app.
B

otany Taekwon-Do has been training the ITF style of Taekwon-Do at Cockle Bay School for over 15 years.
Come and have some fun with us get fit and learn a new skill with qualifications that are recognised around the world.
We operate a 2 week free trial. Want to know more visit our web site at botanytaekwondo.co.nz or just turn up at 6pm on Wednesday nights and say hi all ages and abilities are welcome.
Bucklands Beach AFC is holding a Girls Festival to celebrate the end of the season and to get girls from our club together with local schools to enjoy an afternoon of fun, small sided games of football.
So if you have students, girls school football teams, friends, daughters, a niece, or sisters etc who would like to have a fun afternoon with their mates or who may wish to give football a go, get them along to Lloyd Elsmore Park Sunday week (17th September) from 2.30pm.
Everyone welcome!! All ages and abilities invited to join the fun!